The Leadenhall Building is at 122 Leadenhall Street in the EC3 area of the City of London. The commercial skyscraper opened in 2014, it has been referred to as the Cheese-grater as we Brits like to name our buildings with humour – The Walkie Talkie building and the Gherkin are recent examples.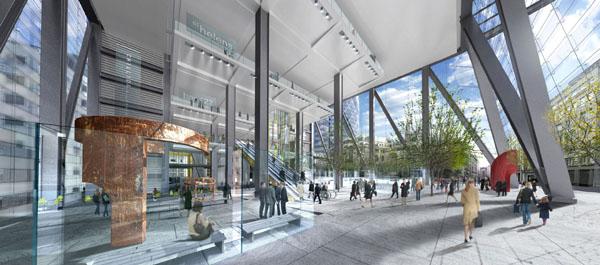 City of London New Buildings
The Leadenhall Building is one of many new commercial buildings built in the City of London's Financial District. Other new buildings include 20 Fenchurch Street, The Pinnacle, and an unnamed project at 52–54 Lime Street.
The previous building to stand on the site was built in 1969, it was 14 storeys high and was one of a pair of buildings (the other is now called St Helens). In 2007 the building was demolished to make way for the new building. The entire demolishing project took over 2 years to complete, the site was cleared by 2009-2010.
The Leadenhall Building
The new building has been designed by Richard Rogers and built by British Land and Oxford Properties. The building stands 48 storeys tall and has that very peculiar wedge shaped profile. The new tower features a tapered glass façade on one side which reveals steel bracings, along with a ladder frame to emphasize the vertical appearance of the building.
The Leadenhall Building was almost 100% pre-let before its build had finished. In May 2011, it was announced that the lower 10 floors of the Leadenhall Building have been pre-let to insurance broker Aon, which moved its global headquarters to London from Chicago. Insurance group Amlin has also agreed terms on a 20-year lease of the 18th to 24th floors as well as the top floor — the 45th — from March 2015, for a total of 111,000 sq ft of office space.
Office Clearance Services near EC3
If you are in need of office clearance, office recycling or commercial waste removal in the EC3 area please get in touch for a free quote.