There is a new food market that has opened up this summer in the heart of the city; with beautiful and historic surroundings of Guildhall Yard. The market will host more than 20 stalls serving up mouth-watering selection of dishes from around the world.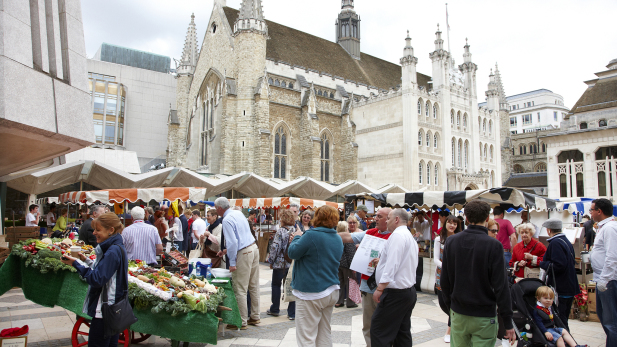 The following are examples of what will be at the stalls:
Adi Best Burgers – Succulent fresh beef burgers, hand-prepared with award-winning and free-range fresh beef
Antique Cup Candle – Elegant candles made with 100% pure soy wax and organic essential oils
Atlas London – Luxurious wooden gifts made from the root of the thuya tree
Bad Brownie Company​ – Indulgent hand made brownies in a range of unique and exciting flavours including 'bacon and maple syrup' and a surprise 'flavour of the week'!​
Cakehole – Classic and innovative hand-made doughnuts made from fresh locally-sourced ingredients
The above is just a selection, you can choose from other cuisines such as classic Greek souvlaki, Spanish chorizo, Scottish Haggis, Jamaican Jerk Chicken and vegetarian South West Indian specialities. There'll be plenty of sweet treats to take back to your desk too including gourmet brownies from the Bad Brownie Company and decadent doughnuts from Cakehole.
London Market Waste Removal
Due to the market opening in the heart of the city, it is essential that all waste is collected and things that need to be recycled should be recycled appropriately. We at EC Waste Services will provide a cheap and affordable service, we provide a service based around your needs.
EC Area Market Site Clearance
As the markets will be running monthly throughout the summer, there will be a constant demand for waste that will gather up. This will attract unwanted pest that will just ruin your mood for the food, so we will be more than happy to help assist with the site clearance.